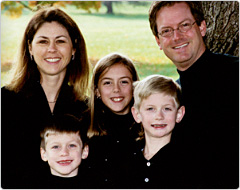 When you visit Doug Thompson Orthodontics, you can be sure you are receiving the best treatment and customer service possible. Dr. Doug offers a warm, caring, and friendly atmosphere for patients of all ages, and each person who comes through our door becomes a member of our family. Dr. Doug warmly welcomes you and your family, and looks forward to working with you.
Dr. Doug is passionate about orthodontics. He carries on a 60-year family tradition of providing orthodontic excellence. Family-owned Thompson Orthodontics was established in 1947 by Dr. Doug's Uncle Gene. In 1995, Dr. Doug started practicing orthodontics alongside his father, Dr. Don Thompson. Dr. Doug is proud to serve the Prairie Village and Overland Park communities, and feels fortunate to have the opportunity to work with generations of wonderful patients and their smiles.
A commitment to orthodontic education, and providing the best care possible
Coming from a long line of orthodontic providers, it's no wonder that Dr. Doug found his life's calling in the study and practice of orthodontics. Before becoming an orthodontist, Dr. Doug attended the University of Missouri at Kansas City School of Dentistry, where he graduated with honors. He went on to attend the Baylor College of Dentistry, where he served his orthodontic residency and earned a master's degree in oral biology. During this time, he published his research on problems associated with bite forces.
Dr. Doug continues to pursue advanced studies in orthodontics, and is committed to continuing his education. He has more than ten years of experience as an associate professor at the UMKC Orthodontic Department. In addition, Dr. Doug serves on several professional boards and committees, and is a clinical advisor for companies that develop new and advanced orthodontic treatment products.
Outside of the practice
Dr. Doug and his wife Kelley are the proud parents of a daughter, Emily, and two sons, Spencer and Pierce. They are active members of United Methodist Church of the Resurrection. Dr. Doug and his family enjoy traveling, spending time together, and going to KU games. When he's not at the office, Dr. Doug can also be found helping his two sons with Boy Scout activities; he himself is an Eagle Scout.